LAIKA is a refrigerating system that can be fitted to cross over a cold room.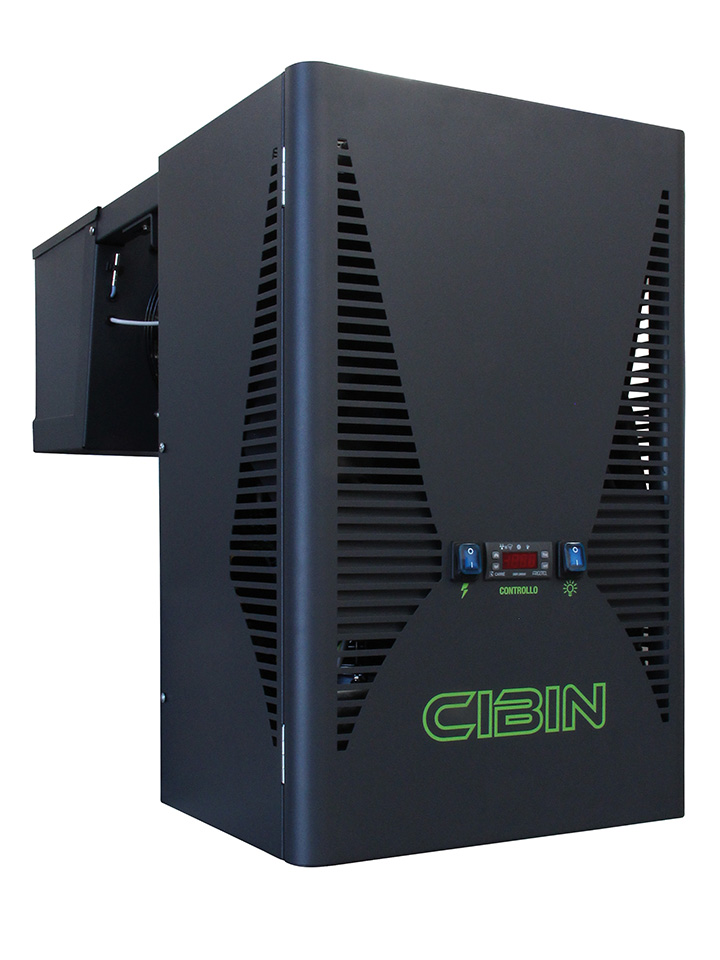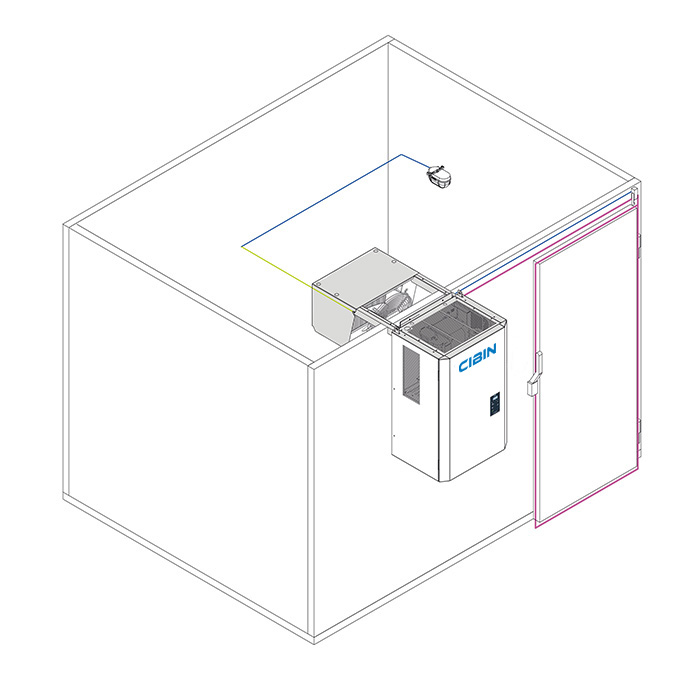 The new Cibin R455 monoblock range
Ultra-low GWP refrigerants
The new Cibin monoblock range use the latest generation ultra-low GWP refrigerants. With a GWP of only 146, R455A is the definitive solution for future low/medium temperature commercial and industrial refrigeration.
After multiple tests and studies based on the entire cold chain, it has been shown that the TEWI (Total equivalent warming impact) of machines operating with R455A is significantly lower thanks both to the refrigerant, COP and the ease of managing the machines, which are more user-friendly compared to old R404A machines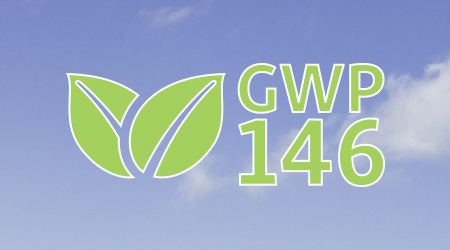 Safety
The refrigerant used is composed of a mildly flammable azeotropic mixture (A2L in accordance with ISO 817). However, the use of R455A is made safe (in compliance with the principal safety standards) due to the specific flammability properties of the refrigerant, which include:
a) Relatively high lower flammability limit equal to 11,8% (LFL);
b) Relatively low upper flammability limit compared to the low flammability limit 12,9% (UFL);
c) Minimum ignition energy more than 1000 times higher than propane;
d) Flame propagation speed lower than 1,5cm/s.
Technical characteristics:
Configurazione standard
• Sealed circuit
• Hermetic compressor
• Electronic fans
• Anti-vibration compressor brackets
• Air condensation
• Galvanized powder coated sheet steel body
• Evaporator body of aluminium-magnesium alloy
• Evaporator of copper pipes and aluminium fins
• Condenser of copper pipes and aluminium fins
• Automatic restarting low pressure switch (to be welded)
• Automatic restarting high pressure switch
• Compressor timer management to avoid too near start-ups
• Axial fan
• Condensation control device *
• Thermic compressor protection
• General magnete-thermal protection
• Thermostatic expansion valve with external equalization *
• Suction pressure relief valve (only for low temperature models)
• Dehydrator filter
• Suction-side liquid separator *
• Defrost hot gas solenoid valve
• Automatic hot gas defrosting
• Condensation outlet siphon
• Condensation outlet resistor (only for low temperature models)
• Cold room ceiling light and power source cable with related protection via fuse
• Ambient temperature probe
• Defrosting end temperature probe
• Condensation control temperature probe*
• Connecting cable for door resistor with protection 4A fuse
(only for low temperatures models) and related protection with fuses
• Connecting cable for door micro switch to turn off the system and to turn on the light at door opening
• Transformer
• Digital display with temperature indicator at one decimal
• On/Off switch
• Cold room light switch
• Running state display: cold – defrosting – evaporator fans – alarm status
• Programming keys
• Alarm display
• Manual defrosting key
• Acoustic alarm
• High temperature alarm
• Low temperature alarm
• High temperature alarm dirty condenser
• Low temperature alarm condenser
• Open door alarm
• High pressure alarm
• Defrosting end alarm because of time-out
• Alarm ambient temperature probe defect
• Alarm defrosting end temperature probe defect
• Alarm condensation control temperature probe defect
• Timer emergency running in case of these events:
– Ambient temperature probe defect
– Defrosting end temperature probe defect
– Condensation control temperature probe defect
– Cold room door open (if there is door micro switch)
• Pre-set connection for Frigotel® supervision
Optional:

• • Door micro switch
• Voltage display for machine stop in case of incorrect power supply
• Acoustic siren with flashing to indicate the alarm state
• Electronic module for the connection to Frigotel® supervision system
* depending on model


R455A – 50Hz – TN
Codice
Modello
Alimentazione

---

V/ph/Hz

Resa W*

---

Tc 0°C / Ta + 32°C

Scheda tecnica
Manuale
999909520
LAIKA 04123N
230-1-50 R455A
230/1+N/50
758


999909521
LAIKA 07125N
230-1-50 R455A
230/1+N/50
1192


999909523
LAIKA 09125N
230-1-50 R455A
230/1+N/50
1438


999909525
LAIKA 18130N
230-1-50 R455A
230/1+N/50
2065


999909526
LAIKA 24225N
230-1-50 R455A
230/1+N/50
2599


999909528
LAIKA 37325N
400-3-50 R455A
400/3/50
3426


999909528
LAIKA 37325N
400-3-50 R455A
400/3/50
3426


999909529
LAIKA 42325N
230-1-50 R455A
230/1/50
3508


999909530
LAIKA 42325N
400-3-50 R455A
400/3/50
3400




R455A – 50Hz – BT
Code
Modell
Power supply

---

V/ph/Hz

Capacity W*

---

Tc -20°C / Ta + 32°C

Data sheet
Manual
999909520
LAIKA 04123N
230-1-50 R455A
230/1+N/50
758


999909521
LAIKA 07125N
230-1-50 R455A
230/1+N/50
1192


999909523
LAIKA 09125N
230-1-50 R455A
230/1+N/50
1438


999909525
LAIKA 18130N
230-1-50 R455A
230/1+N/50
2065


999909526
LAIKA 24225N
230-1-50 R455A
230/1+N/50
2599


999909528
LAIKA 37325N
400-3-50 R455A
400/3/50
3426


999909528
LAIKA 37325N
400-3-50 R455A
400/3/50
3426


999909529
LAIKA 42325N
230-1-50 R455A
230/1/50
3508


999909530
LAIKA 42325N
400-3-50 R455A
400/3/50
3400





R455A – 50Hz – TN – W
Code
Model
Power supply

---

V/ph/Hz

Capacity W*

---

Tc 0°C / Ta + 32°C

Data sheet
Manual
999909570
LAIKA 04123N-W
230-1-50 R455A
230/1+N/50
758


999909571
LAIKA 07125N-W
230-1-50 R455A
230/1+N/50
1192


999909573
LAIKA 09125N-W
230-1-50 R455A
230/1+N/50
1438


999909575
LAIKA 18130N-W
230-1-50 R455A
230/1+N/50
2065


999909576
LAIKA 24225N-W
230-1-50 R455A
230/1+N/50
2599


999909577
LAIKA 37325N-W
230-1-50 R455A
400/3/50
3442


999909578
LAIKA 37325N-W
400-3-50 R455A
400/3/50
3426


999909579
LAIKA 42325N-W
230-1-50 R455A
230/1/50
3508


999909580
LAIKA 42325N-W
400-3-50 R455A
400/3/50
3400





R455A – 50Hz – BT – W
Code
Model
Power supply

---

V/ph/Hz

Capacity W*

---

Tc -20°C / Ta + 32°C

Data sheet
Manual
999909590
LAIKA 17130B-W
230-1-50 R455A
230/1+N/50
1442


999909591
LAIKA 17130B-W
400-3-50 R455A
230/1+N/50
1414


999909592
LAIKA 23225B-W
230-1-50 R455A
230/1+N/50
2128


999909593
LAIKA 23225B-W
400-3-50 R455A
400/3/50
2080


* Max Temperatura ambiente: + 43°C
Ta: Temperatura ambiente
Tc: Temperatura cella